Where Quality & Affordability Shift Into Overdrive
Wheel Alignment and Front-end Services in Lafayette, LA
Is your vehicle not driving as smoothly as it used to? Have you noticed uneven tire wear issues or heard noises that weren't there before? Your car or truck might need a front-end alignment. Ross Tire & Service will complete a thorough inspection of your vehicle's front-end components and make sure every ball joint, strut and shock absorber is working properly.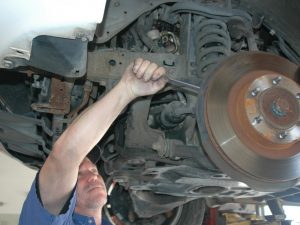 Our services include:
Checking ball joints, struts, springs and shocks to make sure nothing is loose or worn.
Evaluating the steering assembly for signs of worn front-end gear or alignment issues.
Using premium products and proven techniques to get your vehicle back in optimum condition.
Drift on over to Ross Tire & Service in Lafayette, LA for fast and affordable front-end inspection, repair or replacement services. We have great deals on Firestone and Bridgestone tires. We also offer road hazard and mileage warranties on tires!
Call 337-984-0099 to schedule an appointment.